rehab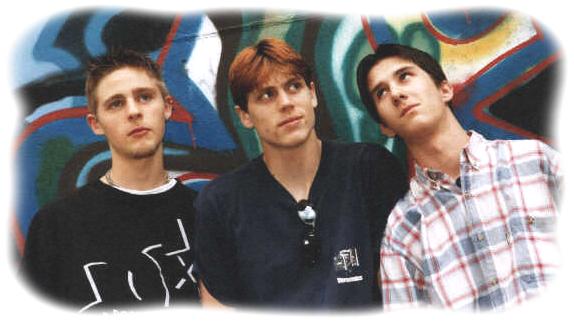 Lee Ross Fish
rehab was formed early in 1998 whilst these three young musicians were still studying at Hawthorn Comprehensive School. Their first attempts to become Wales' next supergroup involved rehearsing Nirvana, Manics and Stereophonics covers in bedrooms, a garage and finally, when the neighbours wouldn't stop whining, in a room above a bakery.
Their first public performances were for fellow students at the launch of the Rhondda Cynon Taff Youth Forum. They included original material in their set, mainly written by the singer / guitarist Ross Hughes.
The first three original rehab songs written were recorded live on portable six track recorder and they produced their own CD called D.I.Y. (reason – obvious !) It has been broadcast on local radio and now includes a bonus track – Ex Directory.
Trios don't work without a busy drummer and this first recording showcases the work of Lee Whiles. He gets a lot of noise out of a small kit, but he still asks to be miked up. The other boys say NUH! and sometimes less complimentary things !
Phillip 'Fish' Hunt took over the bass duties from the original bass player, Gareth Davies, in the summer of '99. Looking for somewhere to gain experience in live performance the boys became regular contributors to the jam session at the Maltsters Arms in Pontypridd. Their support was rewarded when they were asked to be the resident band for four weeks, and began playing regularly in their own right.
Download these lo-fi wma clips from
Illitation