JenSing 10
Saturday 17th. November 2012
The Earl Haigh Club, Whitchurch, Cardiff CF14 2AA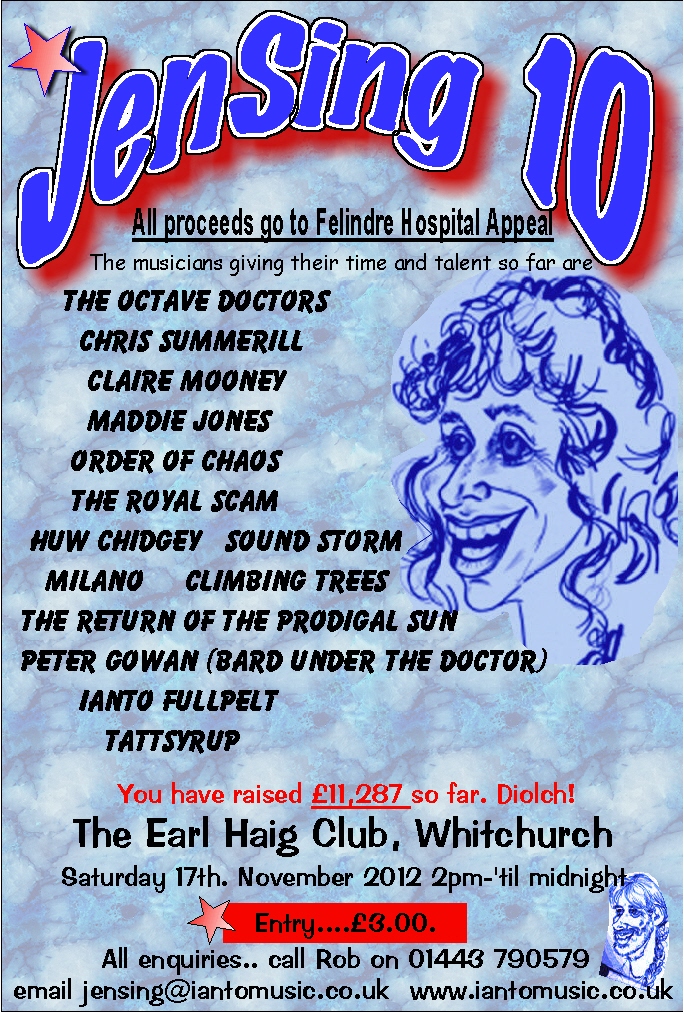 Diolch yn fawr i Cmajor Music 4 Life for your massive input into this.
I send you all a great big slobbery virtual kiss!
Claire's Report
JenSing10
Where do you begin, when there are SO many people to thank? Probably by offering up a little prayer that you don't forget to mention someone you should!
It was a fantastic 10 hours of music, an event which brought to one room such a wealth of musical talent – and in the process, we raised £585 on the day for Felindre Hospital Appeal and there is still more expected in – THANK YOU to all who put their hands in their pockets!
The event would not have been possible without the generosity of the Earl Haig Club, particularly Julie and Graham (and their staff) and the fantastic people who raise funds week in week out for the same charity – CmajorMusicforLife: we just simply couldn't have achieved what we did yesterday without your help. The PA was great, your generous loaning of equipment invaluable, including the drum kit sponsored by Gamlins: it made a difference not needing to source a kit for the day! So many of the logistical headaches were relieved by CMajorMusicForLife's support and contribution- thanks!
Thanks to Felindre Hospital for the prizes which they donated for the raffle and a special thank you to Tracey Jones, who has supported JenSing for many years, in providing a very special signed copy of the book, 'The Story of Wales'. Thanks, also, to Ken & Rose of Zenith Printers for a contribution of raffle prizes and for producing the JenSing 10 flyers: they are also long-standing JenSing supporters- we love you guys!
Our gratitude goes to Rene Butt ('alright Butt?'), also, for provision of slabs of tasty fruit cake! Everyone enjoyed it, particularly Rob, who was eating (apparently) the same piece of cake for HOURS! He insisted he wasn't being greedy, denied having eaten several pieces, but the evidence will be in the waistline, folks!
Thank you to everyone who did a 'stint ' on the door: especially Siwan ac Ann ac Erin Jen; Mike Kendall; Steve Williams; Gareth Lewis; Steve Roberts; Rene; Diane Ware – even if you were only sat there whilst Claire ran off for half a minute, your help was much appreciated!
The assistance of Mr Peter Gowen in playing compere for the evening, telling his tales (usually of woe!) and keeping us on-track with the time schedule is gratefully appreciated.
An especially big DIOLCH must go to Miss Erin Jen Williams, grand-daughter of Jenny, for her professional and efficient help in conducting the raffle draw – and for keeping her mother in check, when she suggested that Erin might attempt to rig the draw in her favour – 'That's cheating, Mammy!' (Priceless!)
Now, to the musicians:
Soundstorm rose to the challenge of starting the day off – not an easy task, as it was quiet at the start of the day. However, their talent and great music ensured that all who were there enjoyed a great set from some great musicians. Soundstorm have supported the JenSing event for some years now: thanks so much to you all! We hope we'll see you again at another JenSing event.
Ianto Fullpelt, a.k.a. Mr Jenny, and Mrs Fullpelt took their turn next. Claire (Mrs Fullpelt, me!) was quoted as saying later 'even we were ok today!' Well, we enjoyed what we did, which included the JenSing theme song, 'Time to Heal', written by Rob and Jenny when she was ill- we trust and believe that it can bring hope to others in a similar situation now – and we were thinking of some you in particular as we sang it yesterday. Thanks to Mike Kendall, who added a tasteful contribution to some of our acoustic numbers and to Steve Mitchell ('hello there!') & Steve Roberts, who certainly rocked up the rest of our set – tidy stuff, gents!
To restore some sanity to the proceedings (although he may question that!), Mr Huw Chidgey entertained us with his particular and wonderful talent: I could listen to his voice all day – mellifluous, Rob describes it. Huw had us laughing and crying and singing along- we hope he will appear again at the Earl Haig, early in the New Year.
Who'd want to follow Huw? The Octave Doctors, that's who! The boys who suggested bringing JenSing to the Earl Haig brought their rocking bluesy music to us with their usual style and aplomb! We love these boys! (Spot the one not called Steve!) Messrs Williams, Mitchell Roberts, Terry & Dai- you lived up to expectations and did us proud! Diolch.
One thing we can pride ourselves in at JenSing is that we manage to engage the services of such diverse musical talent….and Maddie Jones is no exception! Joined by Fitz on mandolin & Tom on cello, this too-talented-for-her-own-good young lady blew us away. Fresh sound, much appreciated by all who heard them perform: I hope Maddie will join us again in the future.
I don't know how to sum up how we feel about the next lady who performed for us. Not only is Claire Mooney an extraordinary talent, she is one of the most generous people we know. Claire travelled from Manchester (again! – yes: she has done this for us on many occasions now) to perform for JenSing and, as always, delivered a top-notch performance. Please check this lady out on the web. Claire was joined by the Claire Mooney Band – carefully selected members of the audience joined Claire, playing their percussion instruments (although I think Jo the Pole Dancer wanted to do something else with that carrot! ………and I'm not going to say anything more than 'AWESOME!' for Pratley's contribution on the slide whistle!)
Who let Steely Dan in the building? Oh, it's the Royal Scam! Great musicians, doing an impressive job of covering Steely Dan's great repertoire – and there's only four of them! Neil and Mike, in particular, have been involved with JenSing from the start and it wouldn't be the same without you guys! Thank you so much for blessing us with another enjoyable set, which everyone appreciated. (Get well, Denise – it wasn't the same, having a JenSing without Mandy and you shaking our buckets for us!)
A surprise next: what a surprise! Siwan and Tadcu Twp sang their special song, written between them, as a farewell to Jenny. Dwed Ffarwel left not one dry eye in the house (Julie had to leave the room!). It is an extraordinarily powerful song and reminded us of why we were there and where this great adventure which is JenSing started: with the wonderful lady herself, Jenny Hughes. I think your girl and your fella did you proud today, Jenny!
Another band which has been extremely supportive of JenSing is Milano: it was so good to see and hear the boys back performing again! A great bunch of lads, who we are so glad to have met by chance. Their performance is always 100% and always enjoyed by the JenSing audience. We thank them and look forward to seeing them again. Special thanks to Andrew of A Strings.
O.O.C. are too young to be called veterans but JenSing veterans they certainly are! Their support has been unstinting and they always entertain. While Rob always champions original music – and this bunch have quite a repertoire of their own – the change to 'covers' for this JenSing certainly impressed a lot of people and the people were up on the dance floor, bopping along to our resident JenSing rockers- great to see! Thanks, boys!
Some might have thought it strange to sandwich a solo performer in between O.O.C. and Tattsyrup, who closed the night, but Chris Summerill is no 'pub-singer'. He's got more talent than can be healthy for one person(!) and is a true entertainer: he held the audience in his hand and gave a sterling and amusing performance. We have enjoyed Chris's performances on several occasions elsewhere but he was a JenSing virgin, as he hit the stage tonight. We certainly hope he'll perform for us again – magic!
If ever you need a good finisher, Tattsyrup are your boys (and girl!) – did they finish the night in style or did they finish the night in style?! Thanks to Brett, Jenny, Dan , John, Ben and Rob for so ably filling the closing slot and providing their usual up-beat entertainment, which got everyone on the dance floor……….and meant that Rob's hips will be shot for weeks! J Their talents are evident and everyone loves what they play – even Mikey from O.O.C. was up dancing – nice moves, Mikey! Chris Summerill joined them for a number, too- all great fun- and gave Rob and me the opportunity to have the wind down that we needed, with a good old dance, to finish off nicely a long, tiring but wholly satisfying day!
I hope I have remembered everyone: please forgive me if you contributed and I haven't mentioned you here. Please know that we are so grateful to you for your help.
Here's to JenSing 10.5 or 11 or JenSpeak- whichever comes next, we'll keep you posted!
Claire Hughes 18th November 2012
Check out the bands
Octave Doctors Chris Summerill Claire Mooney Huw Chidgey
theboymab Ianto Fullpelt Soundstorm Maddie Jones
Order of Chaos Milano Climbing Trees
The Royal Scam Tattsyrup
Total raised so far is £11,287
JenSing is not only about raising money. The first JenSing was a party. I hope they remain events when we can all remember those we have lost and have a good time.
'
Time to Heal' is obviously a very personal song but it's subject is universal.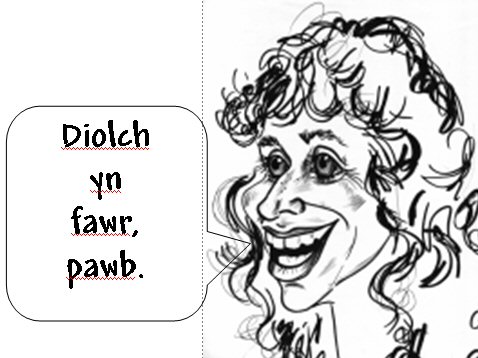 If you want to be a musician, raffle ticket tout or door bucket shaker at a JenSing event, get in touch
Please use this contact link to request a poster to print and distribute.
back to:- JenSing Ianto Music